Welcome to Adam's Model Farms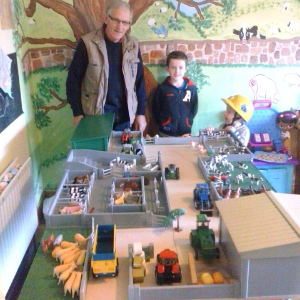 Welcome to the Adam's Model Farms website. Adam's Model Farms was founded by Jim Hynes who is based in Ballyglunin Cross, Tuam, Co, Galway. Jim worked in the Cabinet Unit Making industry for many years. He came up with the idea of building model toys after making a model farm for his grandson Adam.
We have a range of Model Farms, Milk Parlours, Marts, Toy Garages and accessories for these toys. Our model toys make a great gift for your child, especially at Christmas or as a birthday gift.
Each of our products is made in Ireland and built from high quality, safe materials. We provide free delivery to customers who buy our products online in the Republic of Ireland.
Online purchases can be paid by Cheque, Postal Orders and PayPal. We also offer our customers Staged Payment options where you can pay for models in installments that suit you. Call us on 087-7849776 or e-mail info@adamsmodelfarms.com to find out more about this payment option.
We have a range of model toy buildings available for children aged over 3 years old. Each one of these models is made from safe and sturdy materials. If you would like to find out more about our products you can phone, email or contact us through our contact page.